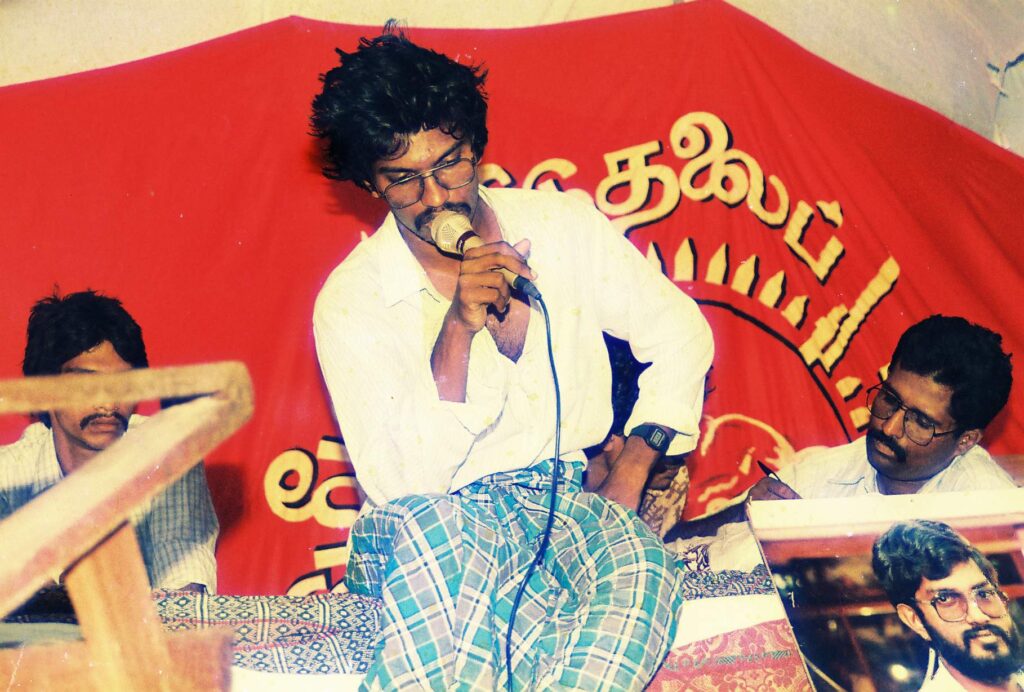 ---
Daily account of Thileepan Anna's hunger strike.
---
First Day – 15th Sept 1987
The journey of his sacrifice.
At 9am Thileepan Anna met school children waiting in queues to greet him. He spoke with Thalaivar for a few minutes via the walkie talkie. Then walked towards the brown vehicle that was awaiting him and sat on the front seat. The vehicle headed to the Nallur Kandasamy Temple. Thileepan Anna got out of the vehicle and as he walked towards the stage an Amma unexpectedly approached him and blessed him with thiruneeru on his forehead. Thileepan Anna was touched by this kind gesture as he had lost his mother at very young.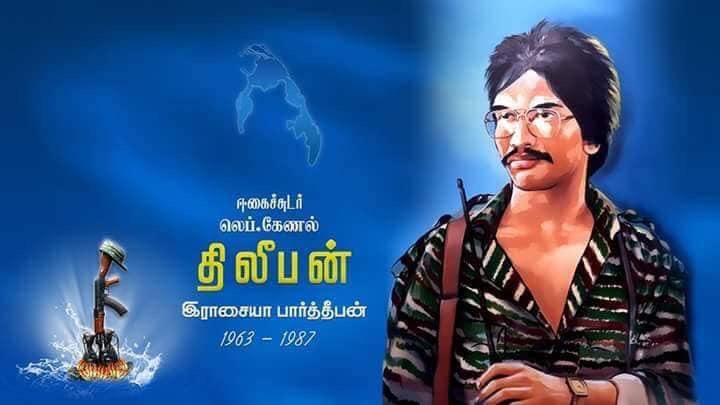 At 9.45am he walked towards and sat on the chair on the stage ready to begin his fast. Major Prasath chaired the meeting while Nadesan and poet Kasi Ananthan explained why Thileepan Anna was conducting this fast. He intended to protect the rights of the Tamil nation and the Tamil homeland and attract the attention of the Indian government and people to fulfill his demands. Later Major Prasath read out the 5 demands:
All Tamil political prisoners detained under the Prevention of Terrorism Act should be released.
The colonisation of the Tamil homeland by the Sri Lankan state under the guise of rehabilitation should be stopped.
Suspend all rehabilitation work until the formation of an interim (Tamil) government for the Tamil homelands.
The Sri Lankan government should stop opening new Police stations in the Tamil homeland
The Sri Lankan government should disarm and withdraw 'home guards' paramilitary from the Tamil homeland.

Two days earlier a written statement with the demands were delivered to the Indian higher officials allowing up to 24 hours for them to act on them. However, since they had not heard back from them until the 15th it was decided that the fast unto death and protest would begin.

At 2pm Thileepan Anna requested for some books to read. Within 15 minutes several rare and unique books were brought to him. He was keen to read about the history of other struggles, in particular the liberation struggle of the Palestinian people. He was also interested in reading about the following revolutionaries: Fidel Castro, Che Guevara, Ho Chi Minh, and Yasser Arafat. A poetry book on Palestine was handed to Thileepan Anna and he eagerly read it.

At 5pm performances began again. School students were reciting poems. One young girl, named Suseela drew Thileepan Anna's attention away from his book to the stage. Her emotional cry made Thileepan Anna shed tears. Another speech delivered by a young boy received an overwhelming applause from the audience.

At 11pm Thalaivar arrived to see Thileepan Anna. Thalaivar asked everyone to be mindful when speaking with Thileepan Anna. Thalaivar wanted to ensure Thileepan Anna had energy while on his fast.
He met a few journalists, with whom he had an open and frank conversation.

At 11.30pm he went to use the restroom and went to sleep at midnight.

At 1.30am he had fallen deep asleep. His pulse rate was read at 88 and his respiratory rate was 20. This could only be taken whilst he was asleep as he would refuse to take these tests whilst awake. Thileepan Anna made it clear that he would refuse food, water and any medical attention while he was fasting.

This was the end of the first day of his tremendous sacrifice.