Twelfth Day -26th Sept 1987
The Journey of his sacrifice.

At dawn, around 5am an unexpected event took place! Suddenly there was a power cut. There was darkness everywhere. The wind blew strong. Thileepan Anna was lying still, motionless. His body was ice cold. In a matter of minutes, a large candle was lit on the stage. Thileepan Anna's face was visible in the light from the candle. But for only a second! The candle had been extinguished by the wind. However, the electricity was back.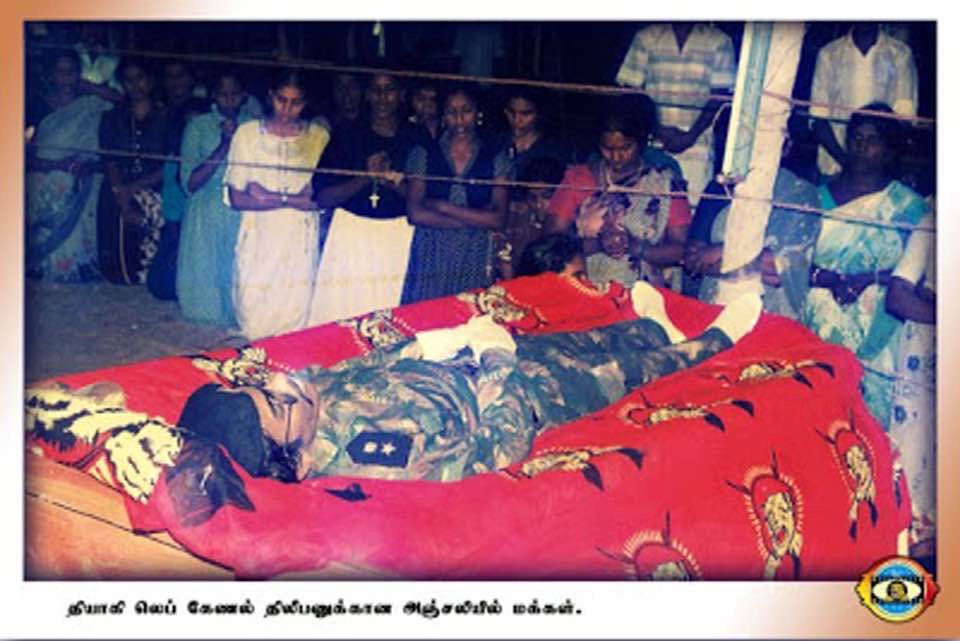 It was understood that Thileepan Anna's condition had surpassed boundaries. His pulse rate could not be taken. It was very faint. His blood pressure was incredibly low at 50.
Thileepan Anna frequently said. "No matter what happens to me, you should not force a single drop of water even whilst unconsciousness. If my demands are not fulfilled, I should not be given any medical treatment until I die…. whether conscious or unconscious…promise to me that you will accept this". He was adamant that this promise was made to him before he began his hunger strike. How could he be treated against his will? How could he be fed water?
What tied my hands together from fulfilling my role as a medical professional who respects humanity and its ideals? Yes, the "Promise!" that's how Thileepan Anna jumped into this nonviolent protest. As a member of the LTTE movement, rooted in three lofty aspects of duty – dignity – discipline, I had no choice but to let Thileepan die in front of my eyes in order to save the disciplined promise I made. In order to fulfil my duty, I walked off the stage.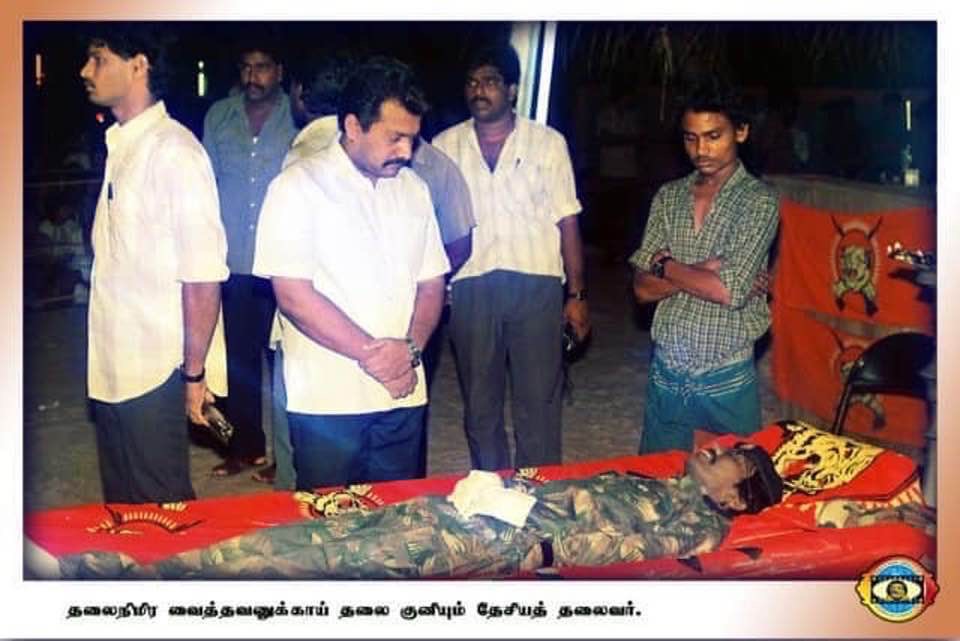 The news of Thileepan Anna's health had deteriorated spread across the Jaffna Peninsula. The stage was surrounded by LTTE members and the public. There was another important reason why our hands were tied, and we could not give Thileepan any last-minute treatment. Many opposition members and opponents of our movement were saying. "The LTTE will craftily try to change the minds of people, they will drink water during the fast unto death without water. They will provide treatment until the five demands are met and will save the person from dying. Who is going to know this? This is the truth behind this." Our hands were tied as we did not want this to become the truth and LTTE the notoriety of being deceitful.

This living god was fighting for his life for so long. Our martyr Thileepan Anna, successfully completed his 265 hour fast unto death, passed away at 10.48am this morning (26.09.1987), leaving us behind to languish in this ruined world.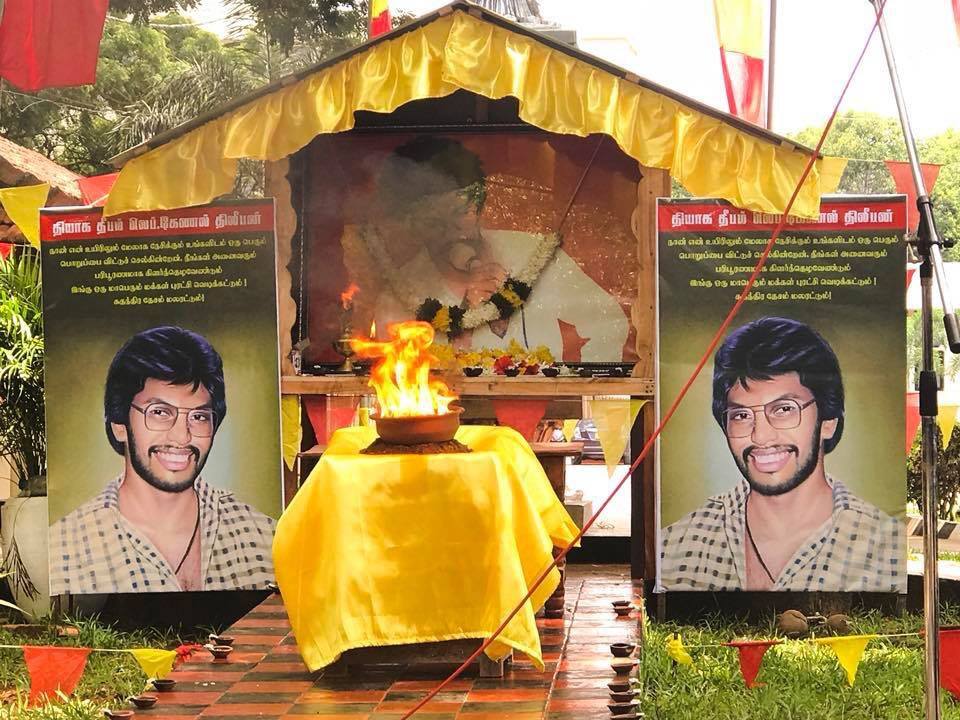 The Tamil nation's flame had been extinguished! Thileepan Anna was examined after he passed and pronounced dead by Doctor Sivakumar, who then fell at Thileepan Anna's feet, bowed, and got up. The public started wailing. There was the sound of weeping everywhere, the sound of mourning, the sound of sadness.
At 11 am his corpse was taken to the Jaffna medical college. At 4.15pm he was placed in front of the same stage for public homage.

Thileepan Anna was dressed in the LTTE camouflage black and green military uniform and hat and was given the title of 'Lieutenant Colonel'. The title given does not compare to the sacrifice he has made. His coffin was adorned with the Tiger flag. His father, brothers and relatives came and paid their final respects. As soon as his coffin was opened, his loving father, a retired teacher, Mr. Rasaiya fell on his body and started crying. Following his weeping, the public, too cried like small children. The public waited for hours and came in long queues to pay their last respects to their hero. The Eros Movement Chairman Mr. Balakumar, Tamil Nadu Kamaraj Congress President Mr. Nedumaran and poet Kasi Anandan also paid their respects with tears in their eyes.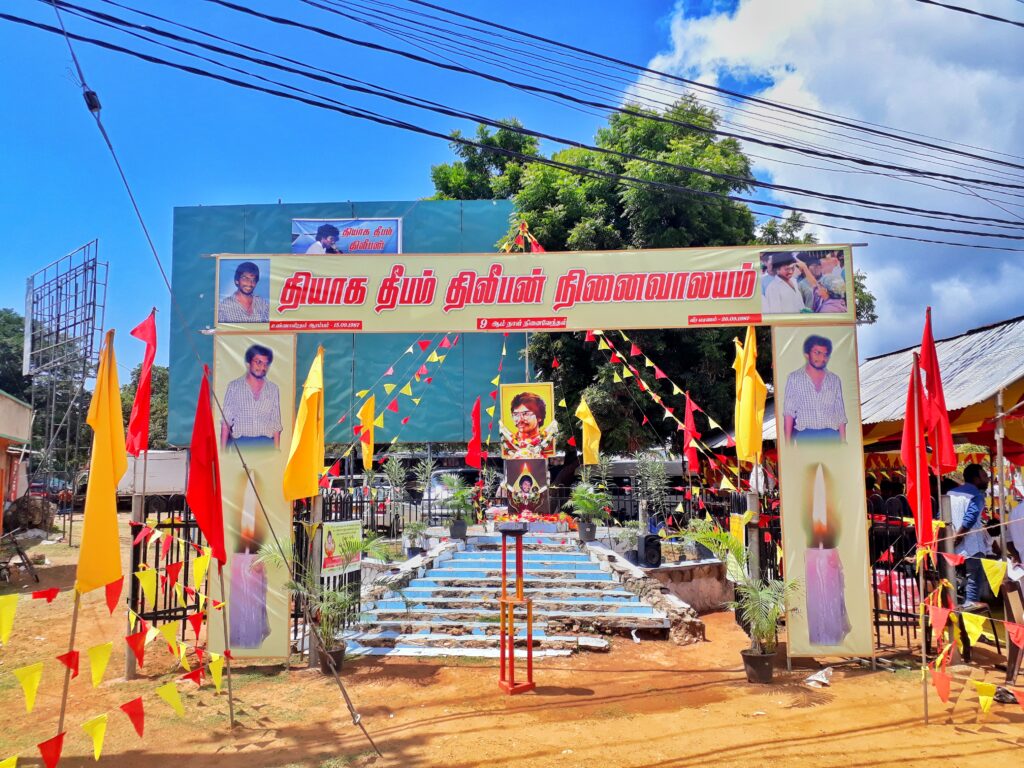 Thalaivar Prabhakaran, Sornam, Kumarappa, Pulendran, Santhosam, Joni, Prabha, Imran, Anton Master, Shankar Anna, Nadesan and other members of the movement paid their last respects to their friend.  Shajahan, Naren, Aruna, Sri, Rajan, Dinesh and others cried uncontrollably. "Having been with Thileepan for 12 days during his martyrdom, participating in his struggle, I do not know how many more days it will take me to recover from this trauma. But one thing is for sure! Thileepan has left us with a lesson to be learned… that the non-violent struggle will only be listened to by the people with humanity and of high character, Thileepan has implicitly made us realise that only weapons can only give the right answer to our struggle for Tamil Eelam".
Even after his demise Thileepan Anna wanted to be of use to people, as per his last wish his body was handed over by the LTTE to the Jaffna University Medical Department Doctor Sivarajah in front of thousands of people at the prestigious Suthumalai Amman Temple on September 28th.
Many of the public who came to pay their final respects fainted in sorrow. There was dejection everywhere in Tamil Eelam.
Thileepan Anna is still hungry, hungry for justice.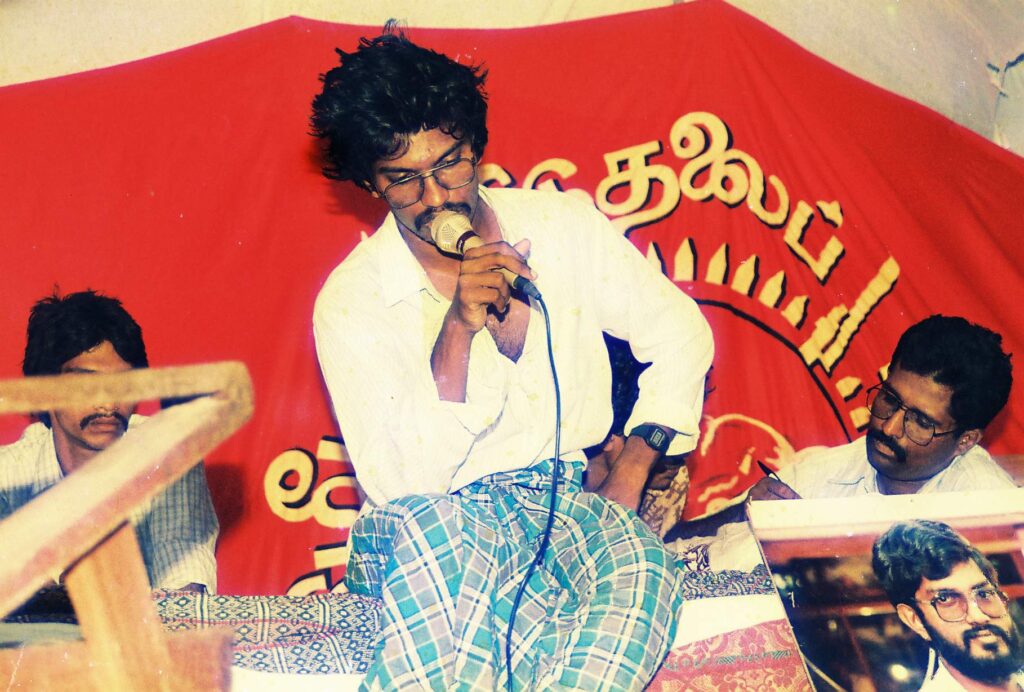 The daily accounts have been translations by TYO of extracts from the book written by poet M.V.Y Vanjinathan.