Third Day – 17th Sept 1987
The journey of his sacrifice.
At 6am Thileepan Anna woke up, both his lips were chapped and white. His eyes had sunken further than the day before. His face was cracked and dry and his hair was a mess. When asked, "Are you not going to brush your teeth and wash your face?" He replied, "No, do not want to." He combed his messy hair. At this point, he had not passed urine yet. When asked, he said 'it does feel like I need to go'.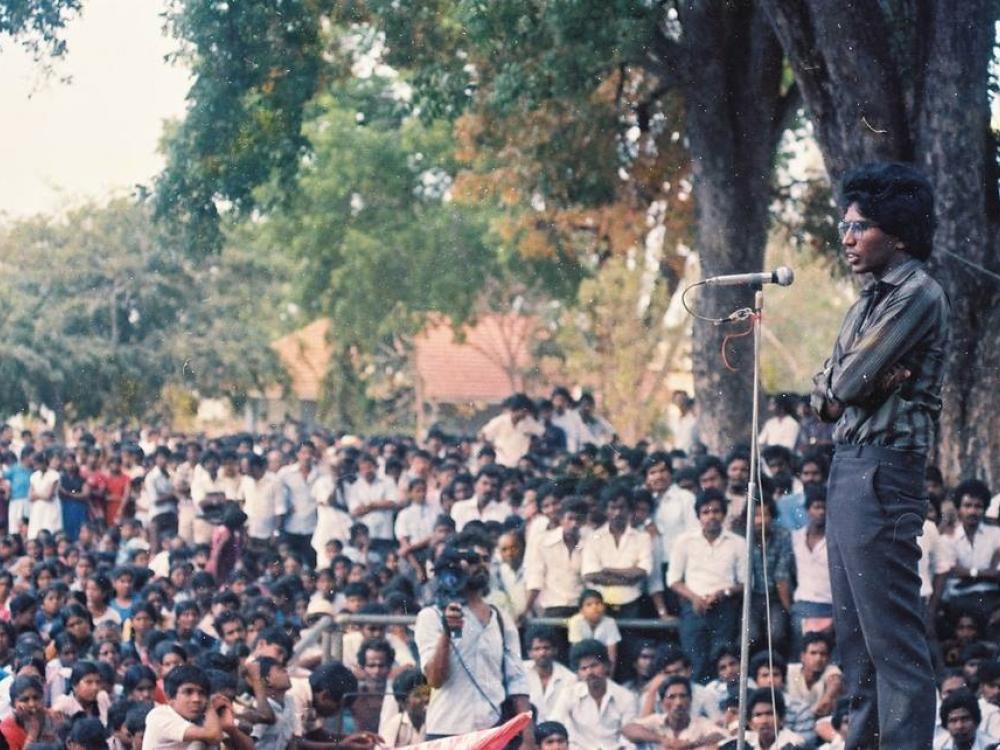 When he was helped to climb off the stage, he said, 'Don't leave me, I will come down' and jumped down. He kept his mind strong.
He continued to struggle to pass urine. Minutes were passing by quickly. But there seemed to be no benefit. He climbed up and sat at the right side of the stage and invited the usual people to converse with. When he was requested to talk less to conserve energy, he used his signature smile in response and continued chatting.
It had now been 45 hours since he had something to drink. For how many days is he going to suffer like this? He is already struggling to pass urine. If another two days pass what will happen? When requested to drink water, he shouted with exasperation 'Are you joking?…I started this hunger strike with the condition that I will not drink any water…then how could you ask me to drink water?'
"Don't ask me to drink water any more, what is a hunger strike?…water, glucose, coconut water, are all food items…you can take these and live for many days…but that's not a hunger strike…there needs to be a meaning for a hunger strike…a pure aim needs to be achieved, this is why we strain ourselves and go on a hunger strike…this was not started simply for political gain…I cannot drink water and deceive the people." He was right; however Thileepan Anna's life was very valuable.
As time passed, the Nallur temple grounds filled with people. In the past two days people had come in the thousands but today it had become a hundred thousand. At 9am Students from the schools in Jaffna started arriving in queues with their white uniforms and started filling the grounds. Thileepan Anna was no longer a member of the liberation movement but a representative of the Tamil nation. Mothers became emotional and tearful at the sight of Thileepan Anna's weakened body.
It was scorching hot but suddenly as if the heavens had opened to protect a child who was suffering if started pouring with rain. However, none of the public moved, even as it rained. It was evident at how the people felt.
Even whilst he was drained and exhausted Thileepan Anna gestured for the people to seek cover from the rain. But still no one moved. It seemed as if the public were asking 'is it only you that could suffer for your nation and melt like a candle? This rain is nothing in front of your great sacrifice'.
Some overhead sheets were being hung up to shelter from the rain. Whilst Kasi Ananthan's poem was roaring from the speakers. 'is Thileepan calling death, is this necessary at this young age?'
Today, on the third day, there were electrifying speeches and emotional poems taking place on the stage. One of the speakers, Karunanthasivam, a devoted supporter from Kankesanthurai said the following in his speech 'Thiyagi Thileepan's life is priceless, he is no longer just a part of the liberation movement, he is now an asset to the Tamil nation. Thileepan should at least drink some water and save his life. He should give in to his adamancy, eat or drink something and free our worries. This is not just my request but that of the hundreds of thousands of people who have gathered here.'
Thileepan Anna's face fell after listening to the speech and asked to speak. So, he was handed the microphone. "A person who spoke on this stage, had asked me to consume food or drink, this felt humiliating to me…I began this hunger strike without drinking anything…I will not revert from this aim until the end. If it is true that you adore Thileepan, then please do not compel me to drink anything. Your Thileepan has great will power and self confidence, if the Indian government do not meet my demands I will only lose my life but will not drink something to save this insignificant life, I will not back down from my aim."
After he finished speaking the rain calmed. The numbers of people at the Nallur temple grounds partaking in hunger strikes in solidarity with Thileepan, to ensure his demands were met kept increasing as each day passed. Many people had even requested to fast unto death like Thileepan refusing food and water. It was a challenge to ignore their requests. A woman named Siva Thuraiappa from Atchuvely joined Thileepan on a third stage and begun her hunger strike.
Thileepan Anna really struggled to pass urine that night. A doctor was organised to do a check up on him, but he refused any medical attention. He was determined not to have any form of medical check ups or procedures until his death.
At 1.00am he finally fell sleep. His pulse rate was 110 and respiratory rate 24.