Eighth Day -22nd Sept 1987
The Journey of his sacrifice.
Early this morning the Niranjan team started building tents. On previous days, the tents had been filled to the brim by the hundreds of thousands of people who were there. Many had to stand in the scorching sun in pain, so they started making their own tents using canvas in the Nallur grounds.
When the hunger strike began no one expected this many people to attend. Newspapers reported that Thileepan Anna's journey was being spoken about not only in Sri Lanka but India and other foreign countries. Additionally, in various parts of Tamil Eelam many had started their own hunger strikes in solidarity.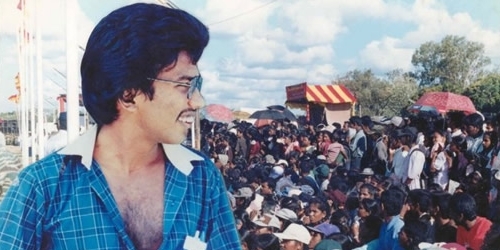 A young commander in Batticaloa named Mathan was following in Thileepan Anna's footsteps and was to begin his hunger strike with the support of the people in two days. There was not a soul in Batticaloa who did not know Mathan. Mathan had travelled to Tamil Eelam from India in 1985 and faced many battles at a young age. He was in the team that destroyed the police station in Kuchchaveli, Trincomalee. Lieutenant Colonel Santhosham, Lieutenant Colonel Kumarappa and Lieutenant Colonel Pulenthiran also took part in this attack and held a special place in the heart of the people.
It was said that in Mullaitivu another cadre Thiruchelvam alongside a few civilians were going to start their hunger strike tomorrow. All over Tamil Eelam nonviolent protests were spreading like wildfire. Thileepan Anna was a man of magnificence otherwise would so many people follow his footsteps?

The five people in Valvettithurai who were on hunger strike in support of Thileepan Anna were visited by Thalaivar Prabhakaran. Photos of the event alongside photos of Thileepan Anna were published in the newspapers.
The Eelamurasu newspaper published the photos of Mrs. Nallaiyya, Miss Kugasanthini and Miss Siva Thuraiyappa who were carrying out their fast unto death without water on a stage next to Thileepan Anna. Overall, they were advocating the success of Thileepan Anna's peaceful fight. Besides the news articles, there were thousands of members of organisations from various towns who would partake in the hunger strike protests and distribute leaflets containing poems about Thileepan Anna. The Indian Peace Keeping Force's helicopters were circling above Jaffna city everyday as surveillance to see the floods of people attending and their uprising.
The LTTE were not just capable of achievements in the armed fight but also through their nonviolent fight spread worldwide with pride. Thileepan Anna's achievements were going down as history worldwide. He was the first man to start a hunger strike till death, without water, and successfully complete seven days. With that pride he slept in his withered state.
Dark patches had formed around his eyes. His face was dry. His hair untidy. His stomach stuck to him. He lay there like a stem without water. He could not open his eyes. He could not see. He could not speak. Could not laugh. Yes! He could only sleep. For how many days this full moon was going suffer without its beauty?
A student organisation led were crowd controlling today. The woman's organisation members were guiding the public. On the neighbouring stage the events had begun. Many read poems as they cried.
Today, Thileepan Anna's health had deteriorated severely. These were indicated by his vitals.
Blood pressure: 80/50
Pulse rate: 140
Respiratory rate: 24