Eleventh Day -25th Sept 1987
The Journey of his sacrifice.
On September 25th 1987, the eleventh day, Thileepan Anna's physical condition was unbearable. All of his organs were failing. Sometimes, his hands and feet trembled by themselves. This was the only indication that he was still alive. His body began to move here and there involuntarily. He was lying on a small bed so Thevar Anna was told to bring a big bed and Thileepan Anna was moved to this new bed. This was when it was noticed that he had already urinated on the bed. Maran, Naveenan and Thevar struggled immensely whilst changing his clothes. When he was still conscious he was asked many times to wear new clothes. He stubbornly refused. He asked with his unique smile , "Why does a dying person need to wear new clothes?"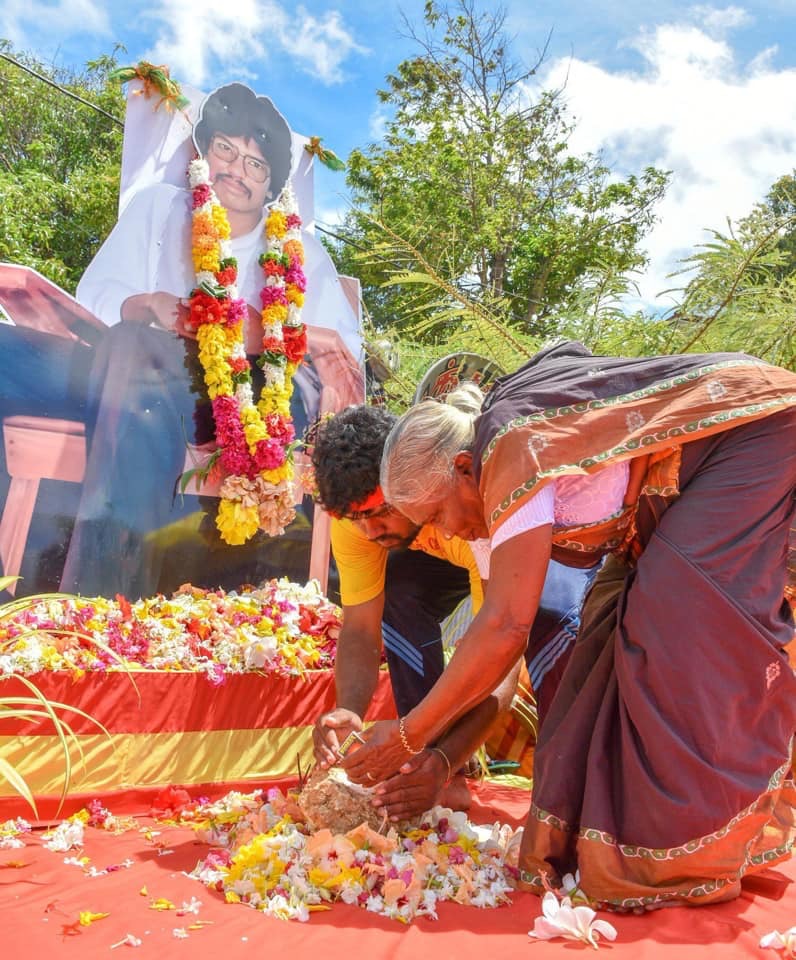 At around 4 pm, Thileepan Anna's condition deteriorated severely. He had entered into a coma. The crowds gathered at the grounds were deeply saddened by Thileepan Anna's condition. Sadness spread over everyone's face. Hundreds of thousands of people had gathered from all over the country since the morning. People kept arriving in lorries, buses, vans, cars and even bullock carts. There is no other event in the history of Jaffna or Sri Lanka that had been flooded with this many people.
Fifty bullock carts bearing the Tiger flag arrived from Vaddukoddai alone, transporting as many people as possible in each cart. At 1.30pm today it would have been 60 hours since the LTTE cadre Thiruchelvam had begun his hunger strike in Mullaitivu. The LTTE cadre Mathan began his fast unto death at 10.40am today at Batticaloa in solidarity with Thileepan Anna. The LTTE cadre Kiruba had also began his fast today evening in Trincomalee.
The demographics of Trincomalee, Mullaitivu and Batticaloa are being changed through the Sinhalisation (colonisation) scheme organised by the genocidal Sri Lankan government over the decades.  Newspapers reported that today eight innocent Tamil civilians were hacked to death by Sinhala settlers while transporting firewood in Trincomalee.  There were reports in all the newspapers that from tomorrow all government officials, private company and transport workers in the Jaffna district would protest by hunger striking and striking from work in solidarity with Thileepan Anna.

For the past ten days, the LTTE's Nitharsanam television service had been airing special programmes from 7pm onwards.

Tonight Thileepan Anna's health was dreadful. He was struggling to breathe. A song that he liked to listen to was aired on stage tonight. The song brought tears to the eyes of everyone. "O maraniththa veerane un aayuthankalai enakku thaa o maraniththa veeranea".  Some women in the crowd started to lament when they heard this song. That painful night was fading away.  The night was mercilessly disappearing…