Tenth Day -24th Sept 1987
The Journey of his sacrifice.
If any of us were to lose someone close to us in front of our eyes, sadness will take over us. Our eyes would shed tears. However, if any one of them are slowly withering away day by day, we would be pushed to the boundaries of sorrow. We would be fed up of life itself. There will not be any tears left to cry.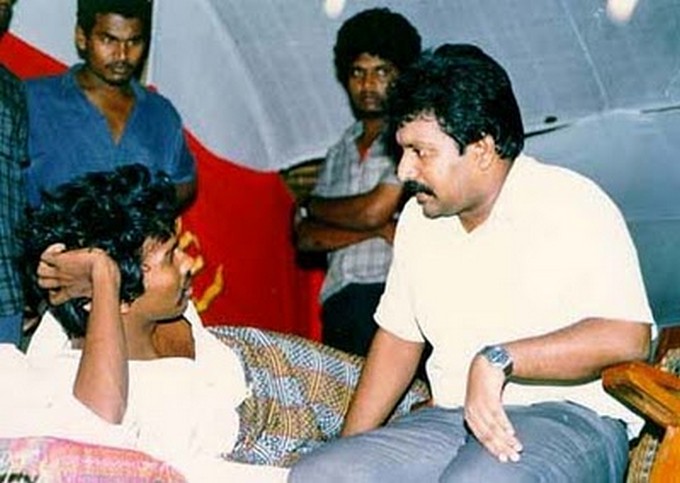 But when one of them refuses to drink even a sip of water for ten days in front of our eyes the sadness that fills our heart is indescribable. It cannot be expressed by words. It is extremely cruel. Only those that have experienced it will understand.
India is the largest democracy and a powerful country. A country which considers Gandhi as one of its national heroes because of his non-violent protests and hunger strikes. Thileepan Anna wanted answers and justice from this land. Hence why he started the hunger strike.
However, Thileepan Anna's state today caused all hope to be lost. Even if a good decision was to be reached it is questionable as to whether Thileepan Anna could be saved. Is this the price for human justice? It was understood that they had plotted to let Thileepan Anna die.

Yesterday, Thileepan Anna's hands and legs managed to move slightly but today they were too weak. He was managing to inhale deeply. His eyes appeared highly pierced. His body had started to turn blue.
Pulse rate: 52
Blood pressure: 80/50
Every vital was much lower than that of an average human being. Now anything could happen to Thileepan Anna at any moment.

That day when Thileepan Anna asked to see Kittu Anna. Was it for this? Knowing that the Indian government was not going to fulfil his demands he spoke as if he was a prophet: "I will definitely die…even after death I will join my friends in the skies….I will watch Tamil Eelam blossom…" Today, these words would not have been forgotten by the thousands of people.
Kittu Anna and Thileepan Anna shared a special bond. They both worked tirelessly to uplift the people in the Jaffna district. Thileepan Anna and Kittu Anna were great treasures to the Tamileelam freedom struggle. Thileepan Anna's wish to see Kittu Anna may go unfulfilled from the way things are appearing today. When Kittu Anna comes to know of Thileepan Anna's wish, he would be immensely saddened and to think about it just brings rage against the world.
This afternoon a supporter came all the way from the town Vasavilan to the stage performing the "thooku kavadi" in tears. This made a heavy impression on everyone there. Other protests and hunger strikes were being carried out in front of Vattukottai Sivan Temple, Achuvelli Central College, Chavakacheri, Kodikamam and Eluthumadduval.
Approximately 6000 students from schools between Pallai and Navatkuli walked in procession and filled the Nallur arena with cried out eyes and runny noses. Throughout the procession the Tiger flag could be seen. The uprising from Navanthurai could be seen from the procession that arrived today. In the Mullaitivu district there was no place that did not have a protest or hunger strike taking place.
How many hundred thousands of people respect and adore the heart of the withered Thileepan Anna? Not just Tamil Nadu but the Tamils in European and American countries were also shedding tears for Thileepan Anna.