Fifth Day – 19th Sept 1987
The journey of his sacrifice.
Unlike previous days, Thileepan Anna was unable to read the daily newspapers today. Floods of people kept arriving in independent buses from the Jaffna district. However, Thileepan Anna was still covered by his blanket. He could not get up. His body was sweating terribly. The fan was spinning fast by his side. A human machine was using all its strength to operate.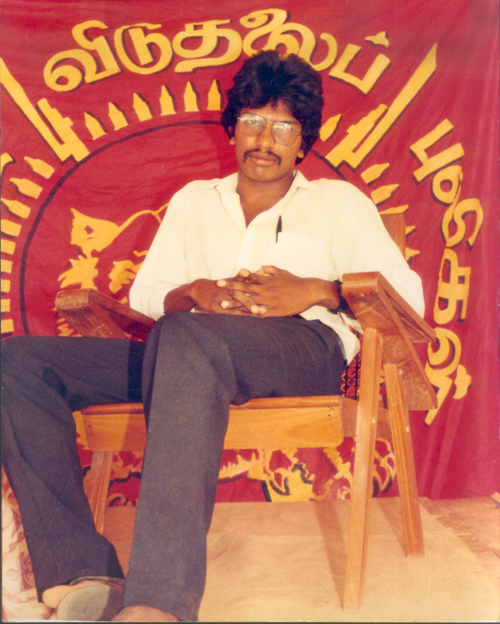 As usual, the headlines in the daily newspapers were about Thileepan Anna. He was lethargic. He was melting away like a candle. His kidneys were beginning to get damaged. His heart was working intensely. If he does not hydrate, the situation will get worse and anything can happen at any time.
News that Thilakar, a member of the LTTE's political wing had gone to India had reached. Thilakar was a part of the delegation that attended the Thimphu talks on behalf of the LTTE. But he was not invited by Rajiv Gandhi, he had gone to fulfil his usual duties.
Fate, are your hands so deadly? Is it your decision to push our innocent Thileepan Anna, who was always so active and always had a delightful smile into the abyss of torture?
What crime had he committed?
Was it a crime that he left his father and brothers behind to fight for the Tamil nation?
Was it a crime to disregard his medical education for the Tamil nation?
Was it a crime he worked tirelessly day and night for the Tamil nation?
Was it a crime that he had 14 inches of his gut cut off for the Tamil nation?
Was it a crime that he decided to fast unto death, slowly destructing himself for the Tamil nation?
What was the crime?

Lakhs of people have been shedding tears for the past five days. For whom? No one still understands the tears shed and the longing for Thileepan and the Tamil nation, why? Has humanity died in this world?
Thileepan Anna has escaped the brink of death many times. In 1983, when he was in charge of the LTTE's Navaly area, he was talking to the general public by the Catholic Church when suddenly two trucks stopped next to him. He had realised that in the blink of an eye, he had been surrounded by the Sri Lankan army, Thileepan Anna was level-headed and remained calm. His intelligence began to work actively. The Sri Lankan army identified Thileepan Anna with information provided by a Tamil traitor and ordered him to board the vehicle. He had a small suitcase containing weapons in his hand. He was accompanied by two Sri Lankan soldiers.
As he was getting into the vehicle, he unexpectedly jumped on the army, attacked them with his suitcase and ran towards the nearby palm orchard. Dismayed by this unexpected attack, the army wondered what to do. They began shooting at Thileepan Anna. A bullet pierced through his arm. Thileepan Anna strengthened himself and continued running as bloodshed. The army could not catch him. As a result of this disappointment they unseeingly shot many civilians and left. Furthermore, Thileepan Anna was involved in a clash with the army in Valvettithurai in late 1986. But a bullet had gutted him. When he was admitted to Jaffna General Hospital, the surgeons removed a 14-inch piece of his intestine. He made a full recovery from being in the hospital for about three months. Thileepan Anna had suffered a lot for the Tamil nation. Thileepan Anna had an unwavering belief that he could achieve through peaceful means and not just through the armed struggle. For this reason, he volunteered himself for this protest even when many people tried to stop him, he did not listen.
This evening the commander in-charge of the Jaffna Fort Army Camp, Colonel Tarar of the Indian Peace Keeping Force, visited Thileepan Anna. As he walked through the crowd, many mothers were preparing themselves to throw stones at him. However the LTTE stopped them and provided him with the necessary protection whilst escorting him to the stage. Yogi Anna and others informed him that the public and members of the LTTE are in a state of emotional turmoil as Thileepan's health has deteriorated. He left saying he would go and take appropriate action. There was relief that Thileepan Anna's life would at least be saved by him.
Thileepan Anna fell asleep with exhaustion that day.