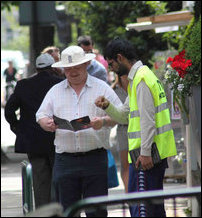 While most of the activists fanned out to the several gates into the Lords ground to hand out leaflets, a group set up a demonstration directly opposite the ornamental Grace Gate, named after the famous England cricketer W G Grace.
Protestors put up banners and Tamil Eelam and England flags and chanted slogans through megaphones from 10 am to 4pm from behind barricades set up for them by the police.
During the day activists handed out over three thousand leaflets to spectators, passers by, members of the MCC (Marylebone Cricket Club), and cricketing officials.
"We chose the Grace Gate [for the demonstration] as that's the one which most MCC members are said to use [to enter the ground]," TYO spokesperson Thusiyan Nandakumar told TamilNet. "It was to them that we wanted most to make our presence felt."
"We had the police's permission for our protest and are very grateful for their support during the day," he said.
"As at our earlier [Boycott Sri Lanka Cricket] events, our leaflets were generally well received," he said. "A number of people in MCC blazers and ties took our leaflets, and, to our surprise, so did some Sri Lanka supporters, though, perhaps understandably, many were not impressed to see us there.
"Some people were embarrassed and others were unhappy at having the uncomfortable truth of mass killings of civilians pointed out when they were planning to enjoy themselves."
"But MCC members well understand our point about a sports boycott and human rights abuses," Nandakumar said. "Bishop Tutu's address to the MCC in 2008 made it quite clear – and the speech is up on Lord's website."
Delivering the Cowdrey Lecture in 2008, Bishop Tutu said: "We know that politics and sport have an important relationship. We indicated that the sports boycott played a crucial part in our liberation. … Your [boycott] was the sanction that hurt the supporters of apartheid the most."
The noisy protest, which ran until teatime was good natured, activists and police told reporters who visited the site.
One man who shouted abuse at the demonstrators and then seized a megaphone was swiftly arrested and is to be charged with assault, police said.
With the demonstration located in front of one of London's synagogues, demonstrators ceased their chanting for 30 minutes in the middle of the day, so as to not disturb religious ceremonies, activists said.
More on Tamil Net: http://www.tamilnet.com/art.html?catid=13&artid=34033