International Women's day
They rose to protect their nation breaking social norms and customary traditions. They stood up against oppression and fought side by side with their male counterparts. They succeeded on numerous fronts showing determination, resilience and fortitude. They are the women of Tamileelam.
"When we see our sisters, and mothers raped by the [Sri Lankan] army, when we see our brothers taken away, beaten, and killed, when we watch our homes burn up in flames in the aftermath of aerial bombardments, what are we to do? Where do we go to hide, to live? I decided that I was not going to let that happen to me. I was not going to be raped and killed in the hands of the [Sri Lankan] army. I saw the courage of other girls who were joining the movement and decided that this was really the only way to survive."
– Kala, a 23-year-old women cadre, on why she joined the LTTE movement.
"Tamil women are traditionally shy and timid, lacking self-confidence. But all that changed after [LTTE] women went into the battlefield."
– Tamilini, a former LTTE front-ranking soldier.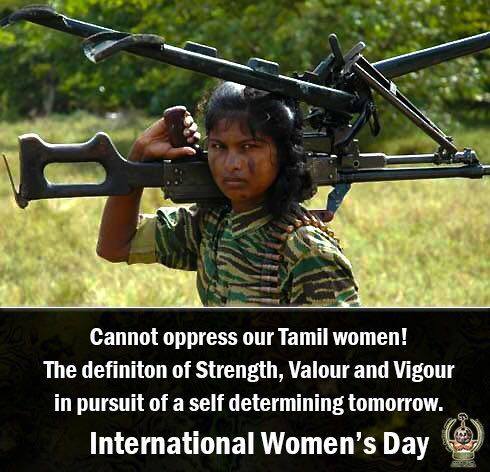 "It has been my nature to break cultural barriers and roam in the vast spaces. What I write is what grew out of my trials to cross these barriers. …. I carry anger within that women and their abilities are not respected despite their role as the kingpin of the life on earth. They remain silent despite their feats. In the war fronts for the Tamil Eelam struggle, my friends keep on going without rest. I fear that tomorrow they may become the unspoken heroines. I write out of that fear."
– Malaimahal, a well known LTTE cadre.
"The previously omnipresent notion that femininity is directly connected with passivity, indecision, softness, and emotionality, while masculinity is tied to aggression, independence, rationality, and activity, is no longer accepted by the majority of Tamil society.
Women could do things that they could not do before and demonstrate their abilities in the public sphere. Drive against the practice of dowry giving through law as well as through theatre and the recruitment of large number of women into the police force gave the emerging de-facto state a strongly pro-woman character. In 1996, the Tamil Tigers were evicted from Jaffna by the Sri Lankan military. The Tamil Tigers now set up Kilinochchi as their administrative centre and continued the de-facto state building project amid constant military battles with the Sri Lankan military."
"The women in this defacto-state: the Tamil Tiger women, civilians employed by the Tamil Tigers, and self employed women interacted closely in a manner that did not exist outside Vanni. Through this close interaction they managed to create a network to pick out the women who needed a helping hand. Be it in the spheres of economic assistance, domestic violence, child educational negligence or housing need, they were on the lookout. There were established channels and institutions to which they could turn in order to bring this to the attention of those who can help. Because of these available mechanisms, women did not hesitate to be watch-full and they did not turn their face the other way as women must do in most parts of the world. This culture more or less permeated the entire female population. That was the unique feminism – elimination of destitution through universal women's action!"
Today, we must as a diaspora cover for the destroyed institutions of LTTE and help our extremely intelligent, capable but destitute civilian and ex-cadre heriones living in highly militarised Eelam. We must not allow the role of women to denegrade post war through the sinhala soldiers' misogyny coupled with Tamil patriarchy.