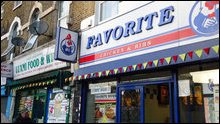 Several Tamil-owned businesses across London have decorated their premises in red and yellow – the national colours of Tamil Eelam – in the run up to Remembrance Day on Sunday. Red and yellow bunting has been hung up across store fronts and on streets on which Tamil businesses are concentrated in several areas including Tooting, Harrow, Croydon and Eastham.
The Tamil Youth Organisation (TYO), which produced and distributed the bunting said there was greater demand this year, following the TYO's introduction of the idea last year.
Several retailers who had seen the bunting adorning the premises of other businesses' premises last year, had been keen to do the same this year, a TYO spokesperson said by email.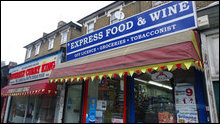 Public displays commemorating Remembrance Day has increased markedly in UK this year, with several business also displaying banners and posters marking the day in their windows, TamilNet's London correspondent said.
Large banners had also appeared at some prominent locations in the suburbs.
Full Article: http://www.tamilnet.com/art.html?catid=13&artid=34649