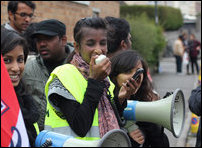 Activists of the Tamil Youth Organisation (TYO-UK), which started the 'Boycott Sri Lankan cricket' campaign in March, were joined Saturday by other Tamil expatriates in handing out leaflets and chatting to arriving spectators.
In agreement with local police, campaigners took up position from 1pm outside the main entrance to the County Ground in Bristol. While some spread out along the approach, Nevil Road, to hand out leaflets, others chanted slogans through megaphones until the match finished at 5pm.
"Although it was a short match, we handed out three thousand leaflets today with the assistance of people who came to support us," said TYO spokesperson Thusiyan Nandakumar.
"Our primary goal, as at previous matches of the England tour, was to further raise awareness of Sri Lanka's war crimes," he said, referring to TYO-UK's campaigns at the warm-up match at Uxbridge and the three test matches at Cardiff, Lords and Rose Bowl.
Sri Lanka's inclusion of Sanath Jayasuriya in the team for the T20 and other one-day matches in England has helped to focus English fans' attention on the link between sport and politics in Sri Lanka and on Colombo's war crimes, Nandakumar said.
Jayasuriya, 41, who ceased playing international cricket when he was elected to parliament in his home town Matara on the Sri Lanka Freedom Party (SLFP) ticket, has been controversially included in the team reportedly at the behest of President Mahinda Rajapaksa.
Critical Commentary
The decision has drawn critical commentary in British press reports which highlighted the accusations of war crimes in 2009 by the Colombo government, and quoted Jayasuriya's defence of the bloody military campaign.
The Telegraph's Nick Hoult wrote Friday: "Jayasuriya is now an MP for the ruling party in Sri Lanka and has used his political contacts to be granted two final matches for his country."
"It is a scandal he's here and there should be no lasting ovations from the crowd," Hoult wrote.
Former England captain Mike Atherton, a leading cricket commentator, wrote in The Times newspaper Thursday: Jayasuriya's call-up is "cynical, political and nothing to do with cricket."
"It is a selfish and an overtly political act. Jayasuriya is no longer a cricketer but a politician; since February 2010 he has been an elected MP […] for the ruling party in Sri Lanka that has the final say on the selection of the national team and is accused of running the country in an increasingly anti-democratic manner and ending the civil war in a barbaric way."
"Contempt would be a good reaction from the crowd … when Jayasuriya walks out to bat," he urged.
Full Tamil Net Coverage: http://www.tamilnet.com/art.html?catid=79&artid=34112