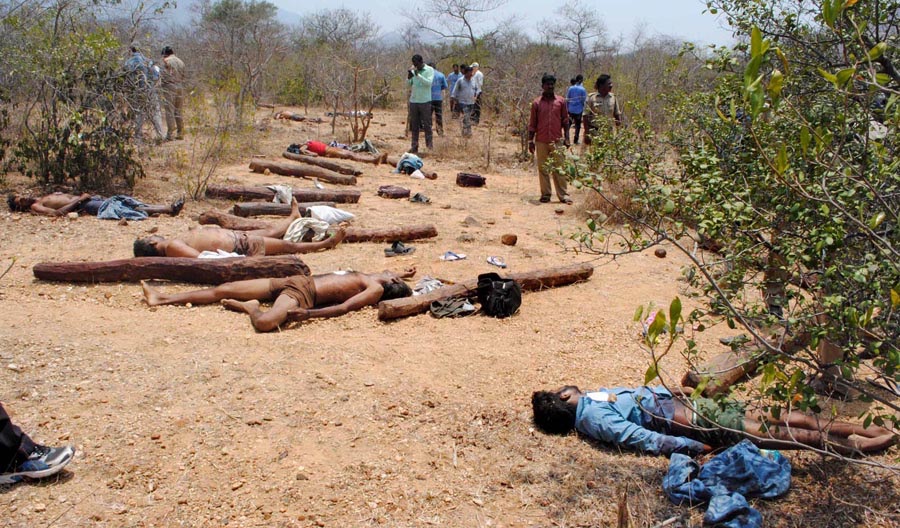 The Tamil Youth Organisation United Kingdom strongly condemns the massacre of the twenty innocent workers by the Andhra Pradesh police in the Seshachalam forest. We are shocked by the Andhra Pradesh government's response and the silence of the Central government on this mass murder. There can be no justifications for these cold blooded killings of the twenty workers. Whilst the Andhra Pradesh police claim that this was an act of defence it is clear that their intention was to kill the Tamil workers.
Although the investigation is ongoing, images and videos have raised serious concerns over the pattern of murders. Many independent forensic experts have pointed this out as a fabricated encounter by the police and many others have questioned the motive of the Andhra Pradesh government. There have been similar callous killings that have taken place at bordering villages in Tamil Nadu previously, yet no justice has been served for these victims. Also in the pretext of 'smuggling', many Tamil Nadu workers and border villagers have been arrested and imprisoned by Andhra Pradesh police. They are being held in prison without any legal assistance or support. We demand that the Central government takes necessary action to uphold justice for the victims and their families.
From the Kaveri delta to this massacre of twenty workers, Tamils have received no support from the Central government. In the case of the Tamil Nadu fishermen, over eight hundred of them were mercilessly murdered by the Sri Lankan navy and many fishing vessels and equipment confiscated from Tamil Nadu fishermen. Yet there has been no action taken by the Indian Central government, rather it continues to train and aid the Sri Lankan navy. The continuous ignorance on legitimate grievances of the people of Tamil Nadu by the Indian Central government raises a big question within the world Tamil population.
We send our condolences to the families and friends of those killed. We Tamils, all over the world, stand with you in these tough times as we continue to call for justice.