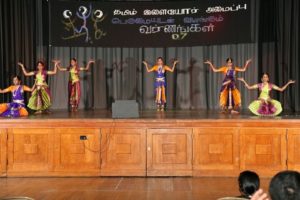 TYO NE's Varnangal 2007 was an immense success, sending home both a happy audience and satisfied performers.
The night provided a combination of various acts from all sorts of cultures from Kurdish folk music to Middle Eastern and Egyptian belly dancing, Brazilian Capoeira and good old British street dance! Onlookers were treated to a fashion show, provided by Casipillai Collections, creating a platform for glittering girls in sparkling saris as well as massive unintended sing-alongs where the audience chose to participate in solo singers' performances, and spur them on. The show covered a huge range of acts bringing the very best of talent in North East London to the limelight.
The show also managed to impart a moral, as well as excelling in its job of putting on a night of fun and entertainment. This was that despite our embracement of other cultures, we must not forget our own roots as this is what makes us the people we are today. TYO North East would like to extend their warm appreciation for the marvellous performers on the night, the sponsors without whom such a great night would have been denied altogether, and the fantastic audience.