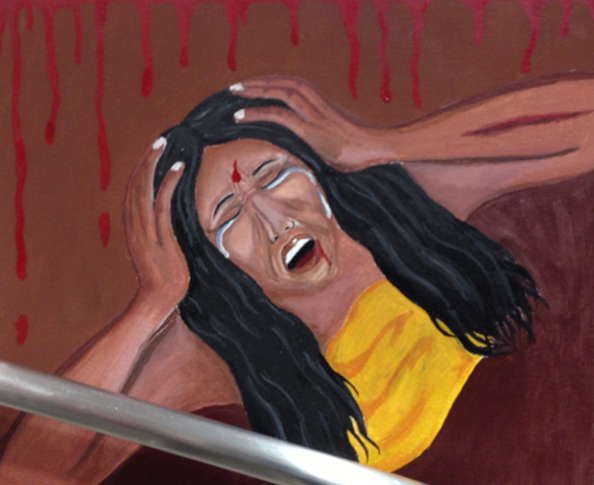 The Tamil Youth Organisation UK has the pleasure of inviting artists of 14 years of age and above to participate in the Art Competition in accordance with these Regulations.
The purpose of the Art Competition is to recognise the artistic achievements and talents of our Tamil students and youth. All winning entrants will receive awards and suitable art work will be displayed at exhibitions conducted by TYO UK on women's issues and will be published on our website.
Theme
The theme of the art competition is: The Suffering of the Eelam Tamil Women.
All art work entered shall reflect and represent the given theme. Artists can show the different forms of abuse faced by the women through their illustrations. Humiliation, Forced Birth Control, Separation and Rape are just a few examples.
Technical requirements

Working technique: must be done by hand
Materials used: free (pencil/watercolours/crayons etc.)
Size: A4, A3, A2
Formal requirements
All participants are required to fill out the application form provided as an attachment to these Regulations. The Application Form shall be signed by the duly authorised supervisor(s) of the participant (i.e. parents or legal guardians), if under the age of 18, which shall constitute the consent for participation in the contest as well as acceptance of the terms and conditions set out herein.
Additionally, each submission shall be marked on the reverse side as follows:
•Family name and first name of the participant.
•Date of birth of the participant.
•Contact details of the participant: email and telephone.
Conditions
1. Participation in the competition will include an entry fee of £1 per artwork.
2. Participants who wish to enter may submit as many pieces of artwork as they wish.
3. Each entry must be accompanied by a separate and completely filled entry form and fee that need to be submitted by 30/9/13. Please email: arts@tyouk.org to find out where and how to submit artwork. Submission venues will be based in the different regions of London, for convenience.
4. Only individual entries are permitted – no group entries or school entries will be considered.
5. Each participant acknowledges and agrees that the artwork submitted for the competition shall be created personally by each participant
6. In their artwork, participants shall not infringe any rights of any third parties, including in particular any and all intellectual property rights and/or copyrights.
7. Artwork must be two-dimensional and 100% paper prepared by the artist i.e. No newspapers, magazines, found objects, etc. must be used.
8. Copying a photograph exactly in any media is prohibited.
Submissions which do not contain all the necessary information mentioned above and/or submissions which are not accompanied by a duly signed entry form, attached with the fee will not be considered. Please make all cheques payable to TYOUK.